The U.S. government must "ensure that all future foreign assistance to Israel […] is not used in support of gross violations of human rights"
FOR IMMEDIATE RELEASE
Contact: Adina Marx | media@jvp.org | 929-290-0317
"If Biden fails to take action at this moment, the U.S. will be fully complicit in the violence that comes next"
Washington, D.C., April 14, 2023 – Today, Representative Jamaal Bowman (D-NY-16) and Senator Bernie Sanders (D-VT) led 12 of their colleagues in calling on President Joe Biden and Secretary of State Antony Blinken to ensure that U.S. tax dollars don't go toward the Israeli government's violations of Palestinian human rights.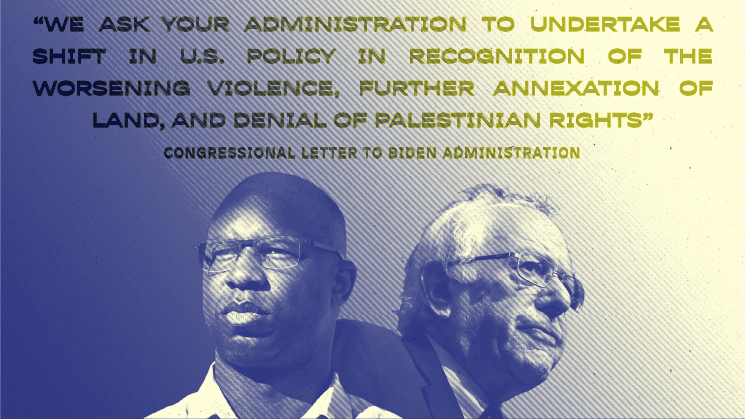 Congressman Bowman and Senator Sanders's letter is the most forceful response from Congress yet to the actions of Israel's far-right coalition government since it came to power at the end of last year. The letter calls for the Biden administration to, "undertake a shift in U.S. policy in recognition of the worsening violence, further annexation of land, and denial of Palestinian rights [by the Israeli government]." The letter further calls for assurance that, "all future foreign assistance to Israel, including weapons and equipment, is not used in support of gross violations of human rights."
The following lawmakers joined Congressman Bowman and Senator Sanders: Representatives Cori Bush (D-MO-01) , André Carson (D-IN-07), Bonnie Watson Coleman (D-NJ-12), Chuy Garcia (D-IL-04), Raúl Grijalva (D-AZ-07), Summer Lee (D-PA-12), Betty McCollum (D-MN-04), Alexandria Ocasio-Cortez (D-NY-14), Ilhan Omar (D-MN-05), Ayanna Pressley (D-MA-07), Delia Ramirez (D-IL-03), and Rashida Tlaib (D-MI-12).
The letter was supported by 35 Palestinian, Jewish, human rights, racial justice, climate, and other civic and civil rights organizations. The full list of supporting groups is available below. The initiative also received support from a wide range of Jewish community leaders including over 135 rabbis and rabbinical students, elected officials, artists, writers, academics, and activists. A statement of support for Jewish community leaders is available here.
"Congressman Bowman and Senator Sanders's letter could not come at a more important moment. The Israeli government is committing brutal atrocities against Palestinians, including attacking worshipers at Al Aqsa mosque during Ramadan. The Biden administration's milquetoast statements of concern ring hollow without action and accountability. It is time to ensure that no U.S. dollars are supporting the Israeli apartheid government's human rights violations against Palestinians."

— Beth Miller, Political Director of Jewish Voice for Peace Action
List of organizations supporting Congressman Bowman and Senator Sanders's letter: Adalah Justice Project, AJP Action, American Friends Service Committee, Americans for Peace Now, Arab American Institute, Boston Workers Circle, Center for Constitutional Rights, Center for Jewish Nonviolence, Churches for Middle East Peace, Council on American-Islamic Relations, Defense for Children International – Palestine, Demand Progress, Democracy for the Arab World Now (DAWN), Detroit Jews for Justice, Dream Defenders, Ekō, Human Rights Watch, IfNotNow Movement, Institute for Policy Studies New Internationalism Project, Jewish Voice for Peace Action, Jews for Racial and Economic Justice, Justice Democrats, Movement for Black Lives, MPower Action Fund, Our Revolution, Peace Action, Progressive Democrats of America, RootsAction, Sunrise Movement, Showing up for Racial Justice (SURJ), United Methodists for Kairos Response (UMKR), US Campaign for Palestinian Rights, US Palestine Council (USPC), Virginia Coalition for Human Rights, Win Without War, Working Families Party 
Beth Miller is available to speak with media.